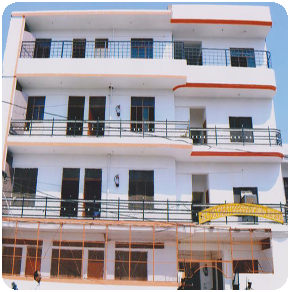 Allahabad (Prayag Raj) is well known for holly place "SANGAM" as well as for Education in the entire country. SMT is being governed by "Chitravansham Society" which is renowned society actively engaged in raising the education status of the country.
Nursing School ( SMT ) is located on the outskirt of Allahabad in a peaceful, calm & eco-friendly environment. The school is well within the city expansion having a distance of only 4 km. from Allahabad Railway Junction & Bus Stand, Civil Lines. Moreover the school is very closed to 4th BTN. P.A.C., Indian Oil Corporation, N.C.R. & Indian Institute of Information & Technology. It has spacious well ventilated classrooms. There are also special activity rooms for enrichment activities- both educational and recreational. The school is also equipped with well stocked Library, a State of the Art computer Lab., Nursing Lab., Nutrition Lab., CHN Lab., Anatomy Lab., A.V. Aids Lab.
The SMT aims to provide a nurturing, learning environment to enable students to become responsible citizens, life-long learners and good communicators through a challenging curriculam.The well researched, project based international learning methodology of the school is designed to prepare students to excel in the world's fines school. The SMT aims to provide a learning environment where students are challenged to reach their individual potential by the acquisition of knowledge and the development of personal, cultural and democratic values essential for future success.
The SMT believes that classroom learning is not sufficient to make a student excel in life therefore it aims to provide students with learning beyond academics, by developing talents through practical training giving in the various reputed hospitals of the city.
The teachers are the heart of the academic program and SMT is committed to have motivated and trained teachers. The school also aims to emphasize the importance of collaboration between parents and the school so that all parents are actively involved in their ward's education.